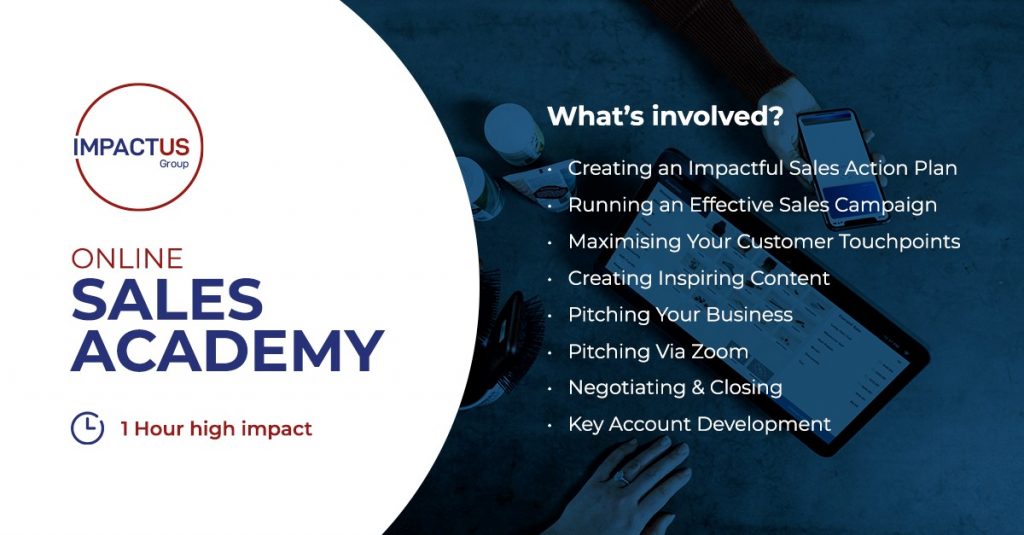 IMPACTUS Group has created a dynamic, high-impact and easily accessible Online Sales Academy Training Programme that covers some of the key areas needed to maximise your sales performance.
Each initial 1 hour webinar will be delivered between 12.00noon – 1.00pm BST for our UK, European & Asian connections and again at 5.00pm – 6.00pm BST on the same day for our other UK connections (that prefer a late afternoon event) and for our Americas & Canadian connections.
Each session will deliver a host of practical content to inspire performance excellence in those attending.

Initial Online Sales Academy delivery dates – in the order of the graphic above are;
Sales Academy 1 – Tuesday 12th May
Sales Academy 2 – Thursday 14th May
Sales Academy 3 – Monday 18th May
Sales Academy 4 – Wednesday 20th May
Sales Academy 5 – Friday 22nd May
Sales Academy 6 – Tuesday 26th May
Sales Academy 7 – Wednesday 27th May
Sales Academy 8 – Friday 29th May
You and your team could be a Sales Masters by the end of May!
The IMPACTUS Group Online Sales Academy Training Programme is supported by a mixture of webinar, action learning, podcast and video content to create a really dynamic resource for your team and your business.
Aimed at aspirational, growth hungry small to medium sized business owners and their sales representatives, as well as sales team members of larger organisations, each session will not only reflect the challenging sales environments right now but also prepare you for post-COVID19 impact.
The whole IMPACTUS Group Online Sales Academy Training Programme is 100% FREE – no catches, no books to sell, no follow up programmes to commit to – just access to great content, expertly designed, delivered and facilitated.
You can sign up for one, two, or all of the sessions, depending upon your needs and availability – but act fast as numbers on each session are strictly limited!
To book your place or places on one, more or the whole IMPACTUS Group Online Sales Academy Programme, click the Eventbrite Link below.
What have you got to lose?