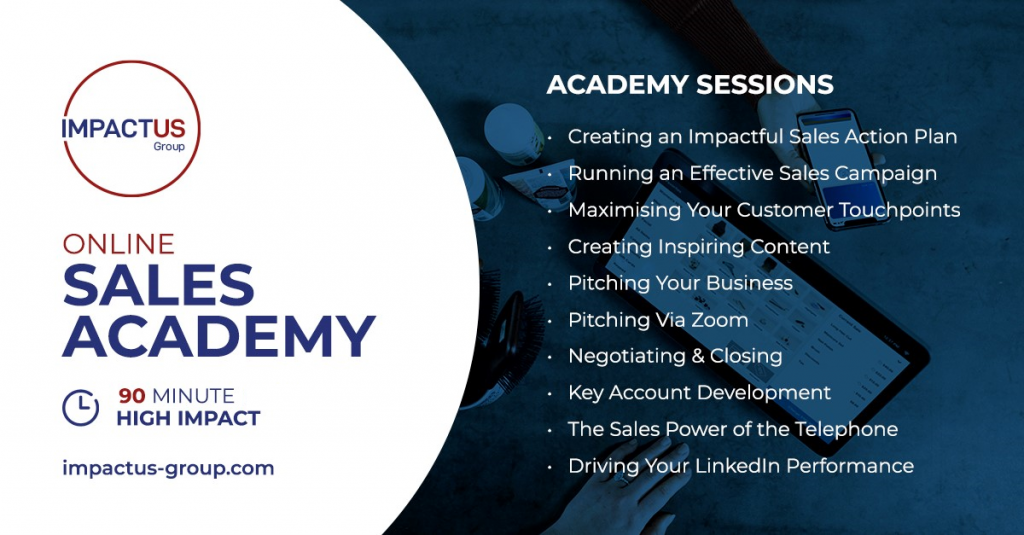 IMPACTUS Group has created a dynamic, high-impact and easily accessible Online Sales Academy Training Programme that covers the key areas needed to maximise your B2B business sales performance.
The IMPACTUS Group Online Sales Academy Training Programme is supported by a mixture of webinar, workbook, action learning, podcast and video content to create a really dynamic resource for your team and your business.
We want you have the right and best learning experience for you, your team and your business so you have four options for accessing each 60 or 90 minute webinar. You can access the content as;
Pre-Recorded Open Sessions – 1, 2, 3 or More….
Tailored & Branded Pre-Recorded Sessions – 1,2,3 or More
Live, In-House, Tailored & Branded Team Sessions – 1,2,3 or More…..
Live, Open Programme – Subject to Programme Dates & Availability
If being delivered live to your team(s), we can be 100% flexible to deliver at times to meet the requirements of our UK, European, Asian, Americas, Canadian or other global connections. The timing choice is yours – within reason……
Each interactive session is packed with a host of practical content to inspire performance excellence in those attending. What's more, we will provide a workbook for you to follow any pre-recorded or live content and a full copy of the slide decks as post-webinar reference materials too.
Aimed at aspirational, growth hungry small to medium sized business owners and their sales representatives, as well as sales team members of larger organisations, each session will not only reflect the challenging sales environments right now but also prepare you for post-COVID19 impact.
The feedback to the programme has been off the scale. You and your team could be Sales Masters by the end of the programme, or just by completing the sessions that you need the most support with.
From Sales Directors, to Business Owners, Consultants to Product Sales Specialists, Sales Executives to New-Start Businesses, why not check out the host of Video Testimonials from an array of attendees on the 2020 Summer Open Programme – https://www.youtube.com/playlist?list=PLuPZzjkpfvbdhfiNHg82qPGOL5EikPaoZ
We are entirely flexible when designing a programme for our clients – from the full suite to individual sessions or a short-course programme to fill a skills gap or deliver a high-impact skills refresh.
Competitively priced to allow you to invest in your business or your team, the whole IMPACTUS Group Online Sales Academy Training Programme is 100% results-focused – There are no catches, no books to sell, no follow up programmes to commit to – just access to great content, expertly designed, delivered and facilitated.
To discuss your potential requirements or to book your sessions or your full programme on the IMPACTUS Group Online Sales Academy Programme, contact us today – nick@impactus-group.com or +44 (0) 7885 463495
What have you got to lose?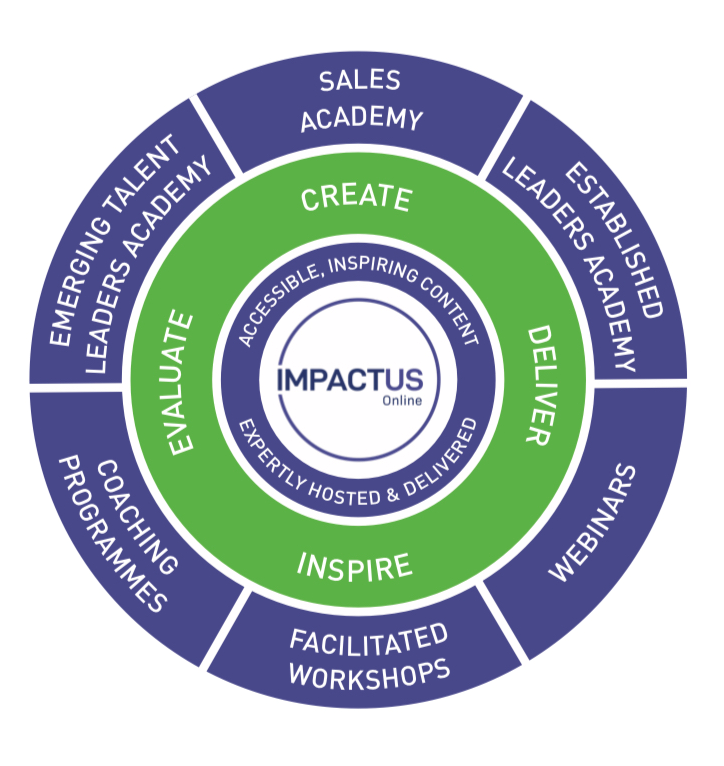 Testimonials for the IMPACTUS Group Online Sales Academy
"Such a great programme – hugely engaging and superb content. I'd challenge anyone to go through it and not be able to make a significant positive impact to their business".
Julie Waites, CEO – The Franchise Company
"This was genuinely one of the most interesting, useful and practical programmes I've ever been on. Cracking pace, very engaging and hugely entertaining.
Rob Osborn, Business Continuity Consultant & Business Owner – O-BC
"What a fantastic programme! Nick Bramley is highly knowledgeable, his Online Sales Academy is interactive, interesting and fun. Nick has tremendous enthusiasm and really engages his audience. I would 100% recommend this programme"
Nicola Page , Business Owner – Financial Planning Consultancy
"Awesome, simply awesome….. Fantastic, practical content, expertly delivered and in a very engaging, effective way. To hold the attention of a large group on a Zoom call for between 60 & 90 minutes is a skill that Nick Bramley definitely brings to the party – this has been a fantastic programme and I highly, highly recommend it to anyone looking to improve or refresh their sales skills"
Janette Elliott, Managing Director – Elliott Hygiene